One of the most important responsibilities of the homeowners association (HOA) board is to create a budget. A well-managed HOA budget can help you successfully maximize funds while also improving your residents' quality of life. It's challenging to plan an HOA budget, especially if you've never done it before. It's easy to lose track of the details when there are so many to consider. Here are HOA budget guidelines that can ensure a smooth preparation.
How Important is an HOA Budget?
What is the objective of a budget for HOAs? One of the most important best practices is to understand HOA budgets and their function. The apparent purpose is to make association management easier, but a healthy budget can also help to preserve property values. A lack of a suitable budget might have a cascading impact, resulting in hesitant lenders and fewer prospective purchasers. You can plan for the correct costs when you know what your budget is for. If you're organizing the annual HOA budget, you'll need to consider everything. The annual budget establishes the tone for the coming year and determines how much homeowners will be charged in dues. The following are some of the key elements to include in your yearly homeowners' association budget:
Utility services

Insurance

Maintenance is required.

Services provided by vendors

Fees for

HOA management

Contributions to the reserve fund
HOA Budget Best Practice
Make Reasonable Projections
It's practically impossible to plan for predicted costs down to the decimal point due to the unpredictability of most expenses. As a result, while preparing your HOA budget, you should be careful.
Adopting the following conservative HOA budget best practices is one method to accomplish so:
Expect primarily from dues as a source of income.

Consider your spending in light of the present economic situation.

Operating funds leftover should account for roughly 10% to 20% of your

annual HOA dues

.
Plan Beforehand
You should have a 1, 2, and 5-year financial plan of action, and your annual budget should reflect it. Also, plan ahead for any significant projects you won't be able to fund in the following year.
Examine Each Expense at HOA
It's always a good idea to look at every line item from previous data when establishing your HOA budget. This is, after all, how projections are made. Compare the association's real spending over the last three to five years. This way, you can get a rough idea of what your upcoming year will cost.
Make the Community a Priority
All of your financial decisions should be made with the goal of improving your town and improving the quality of life for all of its citizens. As a result, don't let your personal interests or any other special interests influence your financial decisions.
Investigate Cost-cutting Options
Having an annual onsite insurance evaluation of your association's properties conducted by an expert is a wonderful approach to save money in the long run. Preventing problems is far less expensive than fixing them, and predicting what problems may arise is the first step.
Control Your Delinquencies
It's crucial to keep in mind while creating HOA budgets that not all homeowners will pay their dues on time or regularly. Some homeowners fall behind on their mortgage payments. When creating your annual HOA budget, make sure to account for overdue homeowners.
Consider your reserve fund
Understanding what will be required in terms of future replacements and repairs for the neighborhood requires keeping up to current on HOA reserve fund accounting. A reserve analysis will show you how much money is now in the reserve fund compared to the expected remaining life and overall condition of key property parts. You'll have a better idea of what to expect this way.
Follow the rules
To avoid issues (and possibly legal trouble), your HOA board should strictly adhere to the association's governing documents as well as all state regulations. Failure to follow the correct processes might have unfavorable effects for both the board and the HOA.
Transparency is key
Finally, keep in touch on a regular basis. Homeowners trust their HOA board to create and implement budgets with the highest level of transparency. It's also simpler to approve budgets if you're transparent and honest, involving the community in understanding the statistics and accepting responsibility for their share. Plus, you might be able to gain feedback or ideas from members of the board that they haven't considered yet!
What Are the Differences Between Operating and Reserve HOA Budgets?
The operational budget or fund of a nonprofit organization typically lasts for 2-3 years. Its goal is to fund the HOA's regular monthly costs. This covers landscaping, routine maintenance, and management costs, among other things. The operational budget of an organization can be influenced by dues and costs. Typically, a checking account should be used to manage your operational budget. This makes it simple to make recurring deposits and withdrawals. If your HOA has a manager, you can provide them access to your operating money so they can pay suppliers and employees.
Operating funds, on the other hand, are used for day-to-day expenses such as utilities, minor repairs, garbage removal, insurance, and all of the other things that keep the association running smoothly throughout the year. An association's reserve fund, on the other hand, lasts for 5 to 30 years. It is set up to pay for big replacements and repairs in the future. A street repaving project or roof replacements are two examples of such costs. Loans and special assessments can both have an impact on your reserves.
How much money should a homeowners' association hold in reserve? Having an accountant undertake a reserve study will determine the size of your reserve fund. Maintaining a 70% financed reserve, on the other hand, is a great approach in general.
Here's an HOA budget template to help you get started`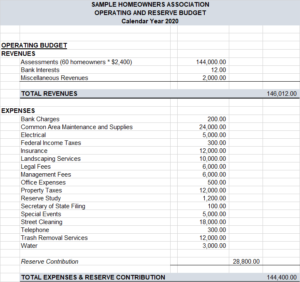 Maintaining a financially responsible HOA requires the creation of an efficient HOA budget. Making small modifications can help even struggling organizations attain financial stability in a short period of time. It's preferable to start working on your budget in quarter three rather than quarter-four for the greatest outcomes. The earlier you start, the better.
Your HOA will thrive if you follow the advice in this article and continue to assess and modify over time.