To determine board qualifications, every HOA should review state legislation and its operating papers. However, there is currently no statute that specifies who might serve on an HOA board. Furthermore, many HOA rules do not demand board members to meet certain credentials. The qualities mentioned in the regulations are generally just suggested since it's important to remember that board members are selected on a volunteer basis.
Remember that the requirements of the HOA board of directors' qualifications must be reasonable in order to be enforced. Adequate criteria can be found in the following examples:
It is necessary to be a member of the association.

There are no past-due

HOA dues or assessments

, and there are no ongoing violations of the governing documents.

The association is not involved in any legal matters (including litigation).

Anyone who has a familial link with a co-owner or existing member of the board is not eligible.

Eligible members must not have any felony convictions.
What Makes a Good HOA Board Member?
HOA board member requirements should include specific attributes in addition to aptitude and experience. A member can have all of the necessary board member skills, but a bad character can negate them all. Here are some of the qualities you should look for in a board member for your homeowner's association:
1. Willingness to Help
Once people run for HOA board positions, one of the first questions they ask is, "Do HOA directors get paid?" Board members are not compensated for their contributions to the organization. These are volunteering positions, and obtaining compensation in any form is illegal. Even if the position doesn't really come with any rewards, good board members are ready to help the community.
2. Prioritizes the HOA
If you truly want to help and enhance your community, joining the HOA board is a great place to start. However, if you are only motivated by self-interest, you will not be a good board member. Members of the board must never be self-serving or look for personal advantage. They must constantly make decisions in the community's best interests.
3. Communication Skills
A director that refuses to communicate properly will not be able to do what an HOA or condo community requires. This entails not only operating together as a board, but also cooperating with the current membership. 
Each HOA must have a variety of communication tools for both the members and the board of directors. When board action is required, it is critical that the board be able to truly take action. It is critical for a board to be able to discuss all the specifics of a subject, come to a resolution, and do all this thoroughly, whether they are meeting in person, emailing back and forth, or even using a live chat room. It is just as vital for the HOA board to communicate its goals to the HOA management firm as it is for the board to make community choices. To minimize dissenting viewpoints and additional confusion, some associations benefit from HOA board members by having a designated point of contact on the board to communicate regarding the day-to-day management operations.
4. Energy Needed
This is the principal determinant of an association management's success. A community must have active engagement among its members to be successful. This entails, above all else, doing the below:
Planning to attend as many HOA meetings whenever possible — if your schedule prevents you from doing so, don't volunteer.

Providing an opinion when a resolution is needed —  one of the most important roles of a board member is to make proper communal judgments.

Joining community activities that you helped organize — brings harmony to other members.
5. Stability and Balance
An effective board of directors always has a well-balanced composition. It's easier to keep things simple when there's a mix of men and women of all ages and backgrounds. Younger board members are more proactive with their ideas, seeking solutions to their current position, whereas elder board members are more traditional and less open to drastic change. The combination of the two helps to prevent absolute pandemonium.
Different experiences contribute to the group's practical knowledge. Someone with construction expertise would be involved in HOA development or remodeling projects, while someone with an accounting background would have been engaged in the organization's long-term financial viability.
Each HOA has annual elections, but the methods are not the same in every community. However, one thing that most organizations have in mind is the requirement for an HOA member statement.
HOA member's statements assist you in standing out as a member of the board of directors. However, they also serve as a source of information for voters. Here are the HOA board candidate statement examples, which will help to make your platform known by submitting it. 
Composing an applicant declaration for board candidacy is close to writing a resume in so many contexts. Make a note  to include the following information when creating one's self:
Your Personality: In a few words, describe yourself.

Why Are You Qualified? Make sure to list your skills and experience to persuade members that you are the best candidate for the job.

What Are Your Goals for the Future? You should include your plans, how they fit the HOA goals.


Here is a sample HOA board member statement: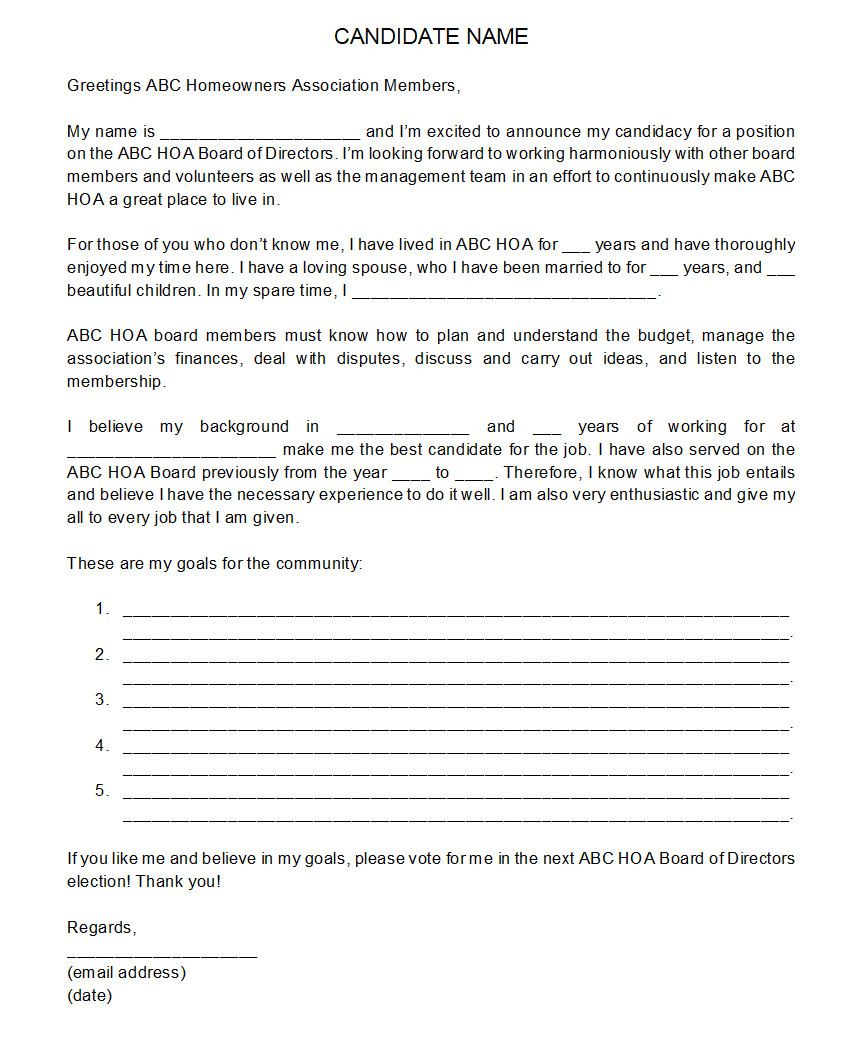 What are HOA Board Member Responsibilities?
The HOA board's main duties and responsibilities include keeping a record of the organization's financial reporting. This involves preserving correct and up-to-date records as well as generating frequent HOA financial statements. These reports assist the board in making budget and expense recommendations for the following year. 
The board is also in charge of gathering feedback from community members.
Rules are enforced uniformly
The HOA board is also responsible for uniformly enforcing the rules.
All residents are required to abide by the organization's governing papers and bylaws. There is no need for specific therapy. This implies that no one is exempt from the laws and restrictions, including the HOA management board.
Making a difference in the community
Knowing your role on the HOA board and what you're accountable for as a member makes a huge difference in building a successful organization and a cohesive environment. To the uninformed, completing these HOA board of director responsibilities may appear to be a difficult order.
Anybody considering running for a ministerial position of directors of their society must keep in mind that the job is frequently thankless, and if they are elected, they should take decisions with the community's best interests in mind. When society thrives, the best reward will be the pleasure of a sense of accomplishment.